Yellow Peril Disco Group/Bamboo Disco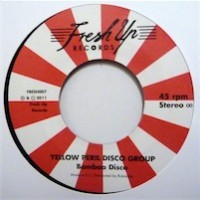 Label:
Format:
Released:
Fresh Up specialise in strictly limited edition 45rpm singles showcasing the finest in library funk, Moog disco and vocoder boogie sounds.
Black Devil Disco Club founder Bernard Fevre blesses Fresh Up with the unreleased 1975 Moog gem "Max Stroke". On a similar tip to his highly sought-after library LP "The Strange World Of Bernard Fevre" this track combines a driving rhythm with pulsing Dr Who bass and soaring Moog melodies.
Yellow Peril Disco Group bring us the yellow magic sounds of "Bamboo Disco".Moroderish synth bass and disco drums from Japaense-born globetrotting artist Yuri Suzuki with synth and vocoder flourishes from Fresh Up founder Ed DMX