Pyramidi
will.i.am and Yuri Suzuki 2014
Yuri Suzuki of Yuri Suzuki Ltd worked for will.i.am to produce series of mechanical instruments.
Rhodes, Guitar and Drum mechanical musical instrument robots are capable to play any music from MIDI.
For installation at Digital Revolution show at Barbican, he wrote a song "Dreamin' about the future."
Will asked Sergio Mendes to play Rhodes unit MIDI data.
Installation content 3D head projection mapping which is designed by Pasha Shapiro and Ernst Weber
Yuri Suzuki Ltd teamed up with Searu, Neil Usher, Kenjiro Matsuo, Alex Bygrave, Maxime Castelli, Arthur Carabott and Joseph Popper to create this installation.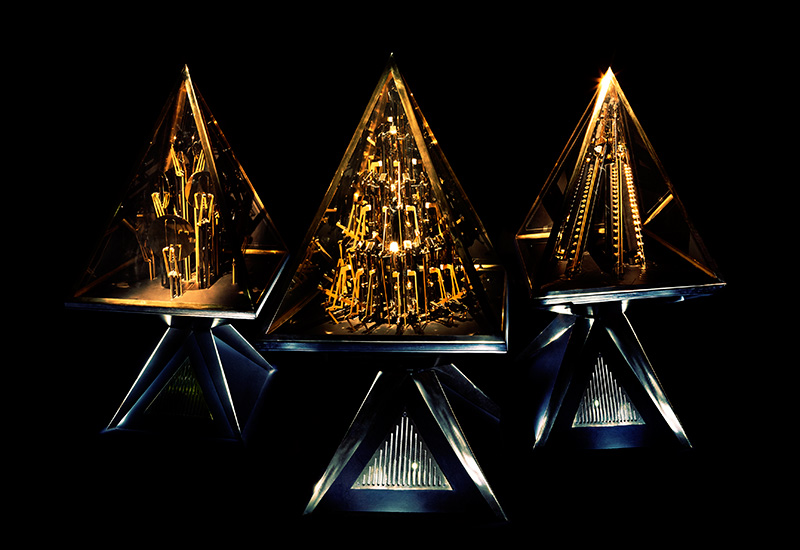 Photo : Akio Fukushima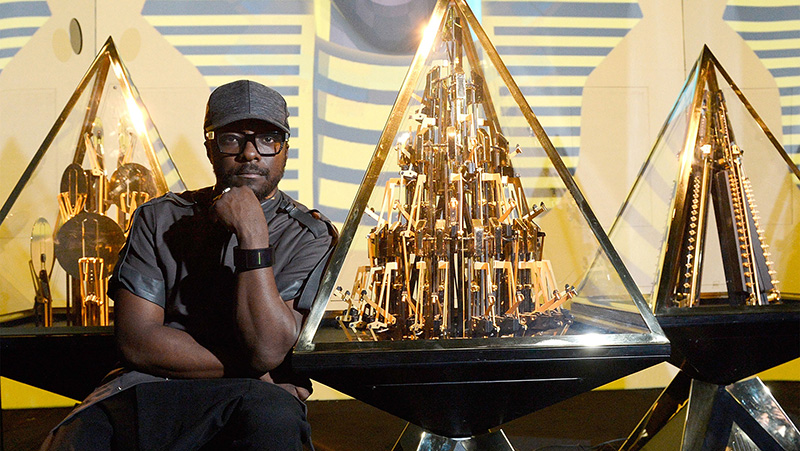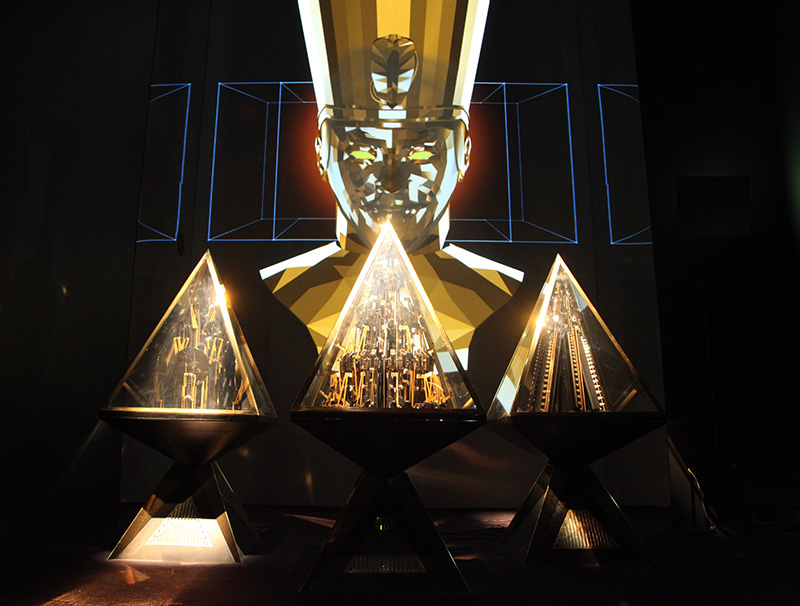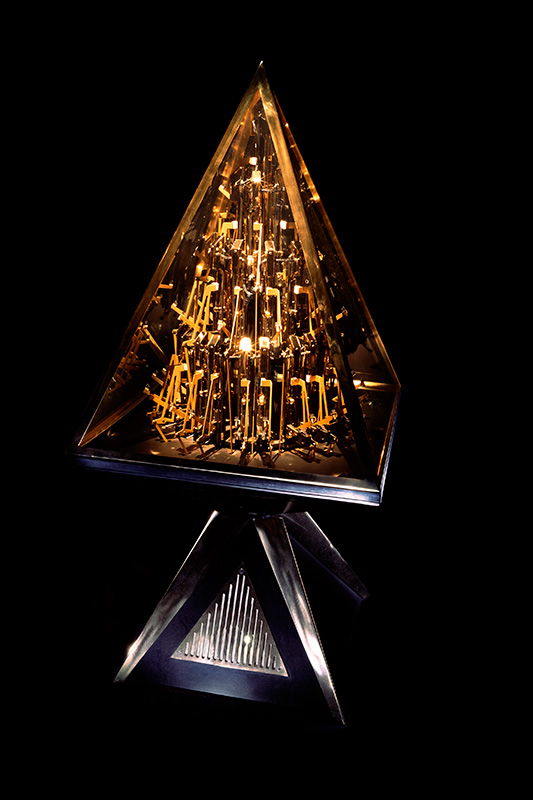 Pyramidi – Rhodes Unit (Photo : Akio Fukushima)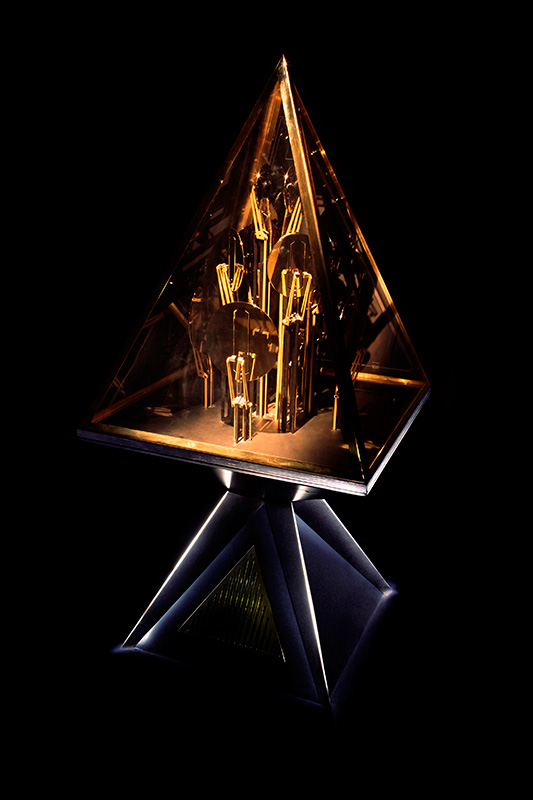 Pyramidi – Drum Unit (Photo : Akio Fukushima)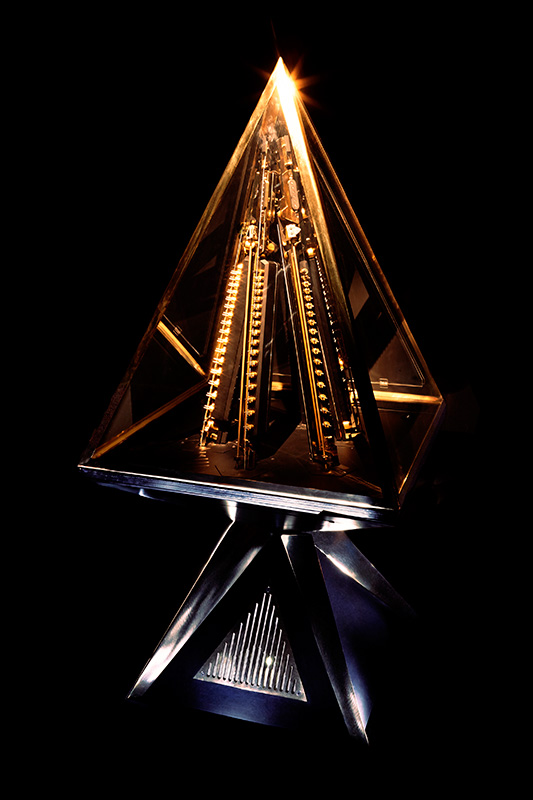 Pyramidi – Guitar Unit (Photo : Akio Fukushima)
DREAMIN' ABOUT THE FUTURE
Produced by: will.i.am and Sean 'bare' Rodella
Written by: will.i.am, Sean 'bare' Rodella, Sergio Mendes, Lancde Tolbert
Featuring: Sergio Mendes
Drum progamming: will.i.am and Sean 'bare' Rodella
Guitar: Lance Tolbert and Sean 'bare' Rodella
Synths: will.i.am and Sean 'bare' Rodella
Engineered: will.i.am and Padraic Kerrin
Mixed: Joe Peluso and Aaron Dhal
Recorded and mixed @ the Future Hollywood, CA
Project Managemenrt: Tatiana Litvin
Projected visuals: Pasha Shapiro and Ernst Weber
Design Direction: will.i.am and Yuri Suzuki
Pyramidi design: Yuri Suzuki, Searu, Alex Bygrave, Maxime Castelli and Neil Usher
Mechanical and electronics design: SearU and Alex Bygrave
Pyramidi production management : Neil Usher and Joseph Popper
Project advisor and programming: Kenjiro Matsuo and Arthur Carabott
With special thanks to Lexus